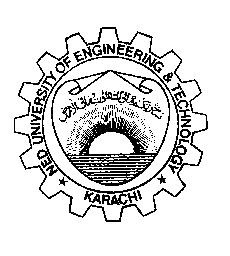 NED University of Engineering and Technology
[NEDians: I need feedback on the color combination. What you see now is what I remember of the colors originally used for the Point Buses and all -- Dark Brown and very light brown/orange. Any feedback welcome]
One of the major institutions of higher learning in Pakistan, the NED University of Engineering and Technology is located in Karachi, the country's biggest city and main port. And before you ask us, NED stands for Nadirshaw Eduljee Dinshaw; a Parsi philanthropist whose benevolence made the then NED College of Engineering and Techology possible. However, now that NED College has become the NED University, no one uses the full form of the name and very few even remember what it was supposed to stand for.

Strictly speaking, the NED University encompasses the main main campus near the Karachi University in Gulshan-e-Iqbal as well as the Dawood College of Engineering & Technology and the Pak Air Force's Engineering College in Risalpur. However, most of the attention here is focused on the main campus. I am hoping some Dawoodians will hook up with us and make this more inclusive.

On the main campus, we have the departments of Civil Engineering, Mechanical Engineering and one called Electrical and Computer Systems Engineering. Metallurgical, Electronics and Chemical Engineering are offered at Dawood College. (I think there is one more, but I am writing from memory. Will some Dawoodian please correct me or confirm?) The Architecture program is at Dawood, too, but behaves for the most part as an independent entity from the rest of the College. Risalpur is where Pakistan's only curriculum in Aeronautical Engineering is offered.

This home page is an effort on the part of some NED alumni to create a real home for our alma mater on the World Wide Web. So here goes:

We have started collecting resources. Please email me at ashrafs@rpi.edu with contributions, suggestions, additions, comments, etc.:
A database of NED students and alumni.
The ECN Mailing List
ECN is an unmoderated mailing list dedicated to the students, alumni, and teachers of NED University of Engineering & Technology, Karachi, Pakistan.
Other NED sites
Organizations of NEDians
I know there are organizations of NEDians around the world - the biggest in Karachi itself - but I am not in contact with any and certainly don't know of any on the Web or the Internet. However, I have not lost hope so if you can help me out in this direction, please do.
Some organizations NEDians are active in
Sister Pakistani institutions with representation on the World Wide Web and the Internet
Places this page is listed
A list of Pakistani Institutions, Syed A. Maroof, coordinator of the Pakistani Student's Association International's Technical Assistance Committee, is trying to put together.
---
© Last edited March 12, 1996, SIA.
© Created November 10, 1995, at http://www.rpi.edu/~ashrafs/ned.html. SIA.
Feedback is welcome and taken seriously. Just email me at ashrafs@rpi.edu.